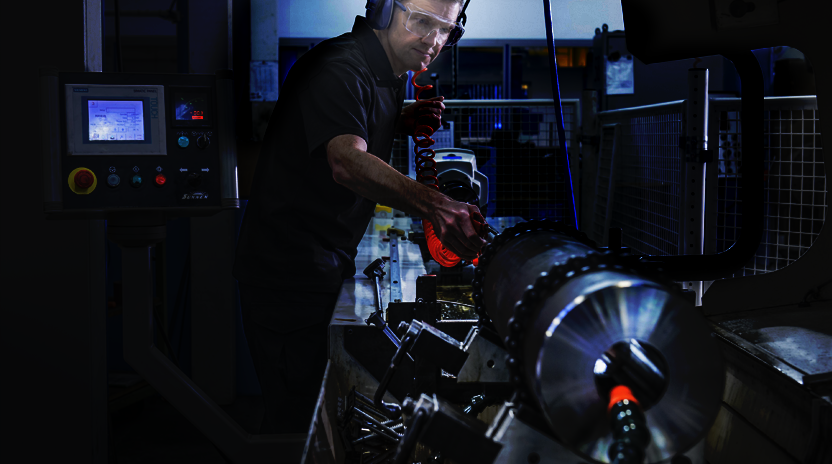 Honing is one of those subcontract services which often suffers an unfairly bad reputation!
Covered in the apprenticeships of old, it's always the honing machines that bring either the wry smile or comical grimace when people visit as if they were lucky enough to go through a full apprenticeship it was either one of their favourites or the hated machine that just "had to be used to pass the exam".

There are a number of reasons why honing suffers and these vary greatly including:-
Cost - customers can often feel it's an expensive process simply because they are requesting honing when they haven't been able to achieve the specified bore tolerance through machining and didn't allow for any honing costs so any cost, irrespective of how good value it is, is eating into their margins.
Delivery - it is often difficult to explain the time frames required to hone out a large amount of stock from a bore. This is not because the honing process is necessarily always slow (although some bores and tolerances do require extremely careful handling) but often it's for the simple reason that when very large amounts of stock need to be removed, the process needs to be carried out in a number of stages in order to let the material cool and normalise before commencing the operation again. This will increase cycle times which in turn will increase the price leading to further claims that the process can seem expensive at times. To overcome large amounts of material left in the bores, we can offer to single point bore depending on the size and length of the parts. Alternatively, we can offer to skive through the bore of long cylindrical parts up to 3000mm long and then finish hone them. If honing is the only option, this can be done but it may not be very economical and if at all possible we would ask that you call us prior to machining so that we can advise on a stock removal level which would be appropriate for that particular component. This not only reduces the cost for the customer but also reduces lead time. As a result, they will win more work, be more successful and we all experience a positive impact.
Quality - sometimes, the teams within the quality departments we work with haven't seen or experienced honing and therefore they are not aware of exactly what honing can and can't achieve.

So What Is Honing & What Can It Do For You?
Internal honing is the removal of material from a round bore using tools with abrasive stones which expand under pressure to cut and is used for the following purposes:-
To achieve tighter tolerances than can be achieved with conventional machining methods or tooling.
To improve Surface Finish to ensure smooth fits with mating parts or reduce wear or in some cases, to roughen a surface finish depending on the application i.e. creating cross hatch finishes for oil retention.
To alter the size of the bore when design changes have been made or requested.
Factors that can affect the quality of a honed bore are:-
Temperature - hence the requirement to allow the component to normalise @20°c.
Parallelism & Roundness from prior machining.
Gauging selected and accuracy of the setting and measurement.
Gauging is sometimes a difficult factor as smaller batch quantities do not always justify or allow the expense of the perfect gauging and customers may have to make do with what they have. For example, some components require air gauging but this can cost £400-£500 and therefore the customer cannot supply this for an order of £100.
Obviously, here at Hone-All, we have built a large stock and variety of gauging over the years but it's almost impossible to cover every size due to the small increments the gauges are sold in!

Blind Bores
Blind bores are another reason for honing getting an unfair reputation at times. Despite most honing specialists making the limitations of honing tooling quite clear to customers on their quotations and stating that the tool cannot reach the full depth of the bore, this information is often not picked up by the customer on the quote and therefore they can sometimes feel that we have not completed the part to drawing.
Components with tight tolerance or high surface finish blind bores could be designed with a relief in the bottom of the bore. The length / depth of the relief is relative to the bore size but as a general guide, 5mm relief on a 50mm bore, 10mm on a 100mm bore would be sensible (and highly desired!) to prevent this occurrence.

What Honing Cannot Do!
Another reason we honing companies may suffer can be due to a lack of knowledge by the customer of the honing process. One customer of ours had raised over 30 NCR's against us (without forwarding them so we were unaware) simply because the parts did not meet the concentricity limits.
If we had machined the parts, we would accept the NCR's, investigate and find the cause. However, we were only honing the parts and the one thing honing cannot affect is the concentricity of the bore to the outside diameter. We can only follow the existing bore and if required, this would need to be cylindrically or jig ground to correct.
And the final factor which may impact quality is indeed, the operator. However, with over 40 years of experience within this field, our engineers are highly skilled and fully trained and that's why we would always recommend speaking to our honing specialists to discuss your requirements at the earliest possible stage.
That's why we have written this guide.
We hope that the information within it will not only educate and raise awareness of the black art of honing but also enable our customers to understand the time frames, the skill, the requirements and limitations of the honing process.

About Hone All
At Hone All Precision we are a family run engineering firm with extensive experience serving clients in the petrochemical, medical, packaging, printing, aerospace, motorsport, hydraulics and automotive manufacturing sectors. Our full range of services are carried out in-house at our Leighton Buzzard (UK) workshop by a team of experienced, qualified CNC engineers. If you'd like to chat with one of our engineers about a project you're working on, or request a bespoke quote, please call us on 0845 5555 111 or 01525 370666.
Feel free to contact us and speak with an expert even if it is before you've commenced the design process as we are happy and willing to pass on our experience and knowledge to save time, money, frustration and benefit not just our customers but our competitors too.