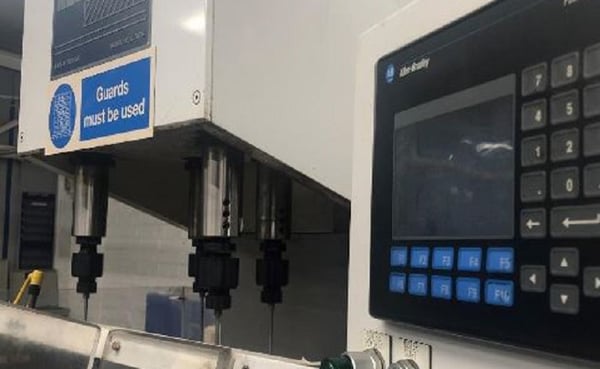 Single stroke honing uses a sequence of gradually larger sized abrading tools to complete a bore in a single cycle whilst using multiple tools. The process is conducted by a special-purpose CNC honing machine, through which the bore diameter and positioning are determined in advance.
Compatible materials for honing include stainless steel, cast iron, carbon steel, ceramics, polymer plastic, and glass.
Advantages Of Single Stroke Honing
Single stroke honing is chosen for its high precision on small bores, and its accuracy to keep within tight tolerances on large volume production runs.
Single stroke honing is also known as progressive honing, due to the sequential nature of the operation.
There are several advantages to single stroke/progressive honing:
Consistent precision in terms of cylindricity, bore size, finish, and geometry due to there being no moving parts for expansion within the tooling;
As the process requires only a single pass, single stroke honing requires less setup time, and no tool changes mid job;
Less time-intensive;
Doesn't require as high a level of operator skill;
No need to use several different machine tools;
Reduced stress on tools/machine parts – increased tool life and lower risk of breakage;
Fast and cost-effective process for large batch/volume honing.
What Conditions, Equipment And Tools Are Required For Single Stroke Honing?
Unlike standard honing, single stroke honing requires an extremely consistent start size within the bore to be honed and also requires a multi-spindle machine, with each spindle tool progressively making a different type of cut, in a combined operation.
For example:
1) A roughing tool that removes 0.0254mm of material
2) An intermediate-sized super-abrasive tool that removes another 0.0190mm of material
3) A surface finishing tool
4) A polishing tool
The number of tools and their function varies from machine to machine and is adjustable for different applications. Using the example configuration above, the machine would require six pots to place the components for honing: one each for loading and unloading, and one for each of the four operations. Single stroke honing tools can have a bore of >15mm and be up to 160mm in length.
Single stroke honing machines allow extensive flexibility in spindle speed, column feed profiles, stroke depth, rotation speed, hole diameter, and dwell. Most machines can accommodate precision boring for holes of 3 to 50 mm diameter.
When To Use Single Stroke Honing
Single stroke honing is an effective process in several circumstances:
You have a consistent, pre-machined, small diameter bore;
You are working to a tight budget or need to reduce costs;
You want to minimise downtime and machine changeover time;
You need consistent, repeatable accuracy for bore size, roundness and surface finish over a large volume production run;
You are working with super-abrasive materials, such as diamond or CBN;
Your project involves small, precision components, such as hydraulic valves, gears, housings, sprockets etc.
Find Out More
At Hone All Precision, we offer progressive honing as one of our range of deep hole drilling, boring and honing services for a variety of applications.
If you require fast, cost-effective, and high precision drilling for small bores, single stroke honing is an excellent and reliable solution.
To find out more, please have a chat with one of our engineers today by calling 01525 370666 or e-mail our sales team and send your enquiry to sales@hone-all.co.uk