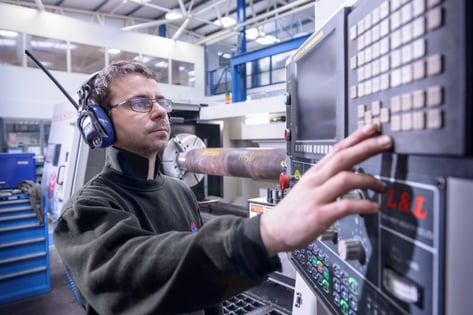 CNC turning has become an important manufacturing process for a wide variety of applications, utilising modern technology to create more precise components and parts. When precision, reliability, and accuracy matters, this process can make a big difference.
How CNC turning works
CNC turning uses a variety of interchangeable tools to complete a complex subtractive machining process. The most common form of CNC turning has a piece of raw material rotating, while the CNC tool shapes it. The lathe is operated by a computer-controlled sequence, and can achieve an extremely precise result, creating complex geometric shapes which are otherwise difficult or time-consuming to process manually.
The initials CNC stand for "computer numerical control", but this name can be somewhat deceptive. CNC turning requires computer input, but its success still ultimately rests on the skill of the operator. This is an extremely specialised process. Precise results demand precise workmanship, so CNC turning should only be attempted by experts in the field. The highly skilled engineers at Hone-All understand the intricacies of CNC turning, and as a result, always produce precise results.
What shapes are possible with CNC Turning?
A standard CNC lathe is primarily used to create tubular components, although some more complexity of form is possible. A basic CNC lathe can form a thread, a taper, bell shape, and more.
However, more sophisticated machinery can be used to create extremely complex, intricate shapes with CNC turning. Hone-All currently focus on 2 axis machining as the demands for our high precision, close tolerance tubes are constant. However, our next investment will be a multi-axis CNC lathe with live tooling giving us the opportunity for milling capabilities. This advanced version of a lathe allows the formation of detailed components with a high degree of accuracy and tight tolerances. With this type of lathe, just about any shape can be created, with all the detail that you need. Thanks to the CNC process, the result will be highly precise, with accurate detailing.
When to use CNC turning
CNC turning can achieve fantastic results - but it is not suitable for all parts. Volume is usually the main consideration when it comes to CNC turning. The time taken for programming versus volume must be assessed and then the level of complexity factored in. Highly skilled engineers can achieve fantastic results with a manual lathe but if you have a run of 5 or more components, production will be quicker and repeatability more guaranteed if programmed and run on a CNC lathe.
Is CNC turning right for your parts?
If your business is looking to make prototypes or short runs of parts, CNC turning could be the solution. To find out more or discuss your project, please get in touch with Hone All on 01525 370666 and we'll take a look at your specific situation. If CNC turning is right for you, we'll raise you a personalised quote. If not, we'll find another solution that better fits your needs, even if it isn't here with Hone-All. At the end of the day, we're here to help, and to support UK Manufacturing, in any way we can!
Image: Unsplash