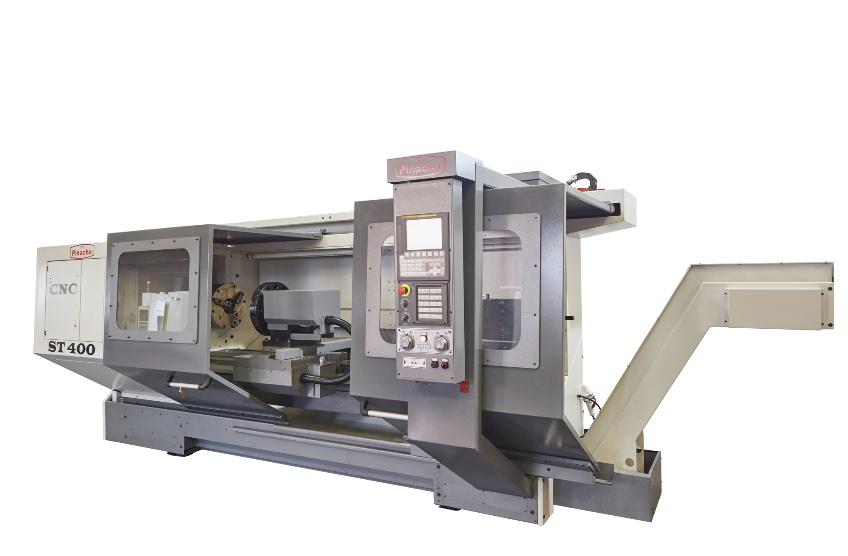 We're thrilled to announce our recent investment in a new Pinacho STH 400 105x2000mm heavy duty lathe which is due to arrive next week! The Pinacho STH series are market leading flatbed CNC lathes, providing a wide breadth of versatility and precision not offered by other models.
After reviewing many different CNC lathes available on the market, we chose the Pinacho for its capacity, high spindle speed and large diameter range, all delivered within a space-efficient footprint.
We purchased the machine through TW Ward CNC of Sheffield, who have so far provided excellent service and responsiveness – despite our requirements increasing as we learned more about what the machine could offer.
Materials
STH parallel lathes are recognised for their engineering quality. All components are cast and manufactured at the Pinacho foundry in Spain. The lathe features pearlitic cast iron castings, hardened ground beds, and gears, spindles and bearings made from F155 steel. The unit is CE compliant, with the enclosure engineered to all relevant EC safety and quality standards.
Specification
The features which made the Pinacho stand above the other machines are numerous and when you have a customer base in excess of 4000, all with differing requirements, selecting the most versatile machine is a must. These features include: -
Swing over bed / carriage - 805 / 720 mm
Centre distance - 2000 mm
Spindle bore - 105 mm
2 speed geared headstock
Fanuc control systems (see below)
12 station automatic hydraulic turret – this was an upgrade from the standard 8 station turret.
Manual 3 jaw chuck + hard jaws
Manual tail stock
Swarf conveyor
Fixed steady capacity 10-300 / 300 – 530 mm
Travelling steady
50 mm boring bar with support
17 Kw main motor power
Position accuracy and repeatability to within 0.01 mm
Coolant equipment
Automatic slide ways lubrication
Tower lamp & work light
Levelling plates
Control Systems
STH lathes come with a choice of control systems from Siemens, Fagor or Fanuc. We have chosen a Fanuc Oi-TF control package for our lathe, which includes servomotors, drivers and control software. Fanuc OI-TF is a precise Nano CNC system that allows exacting calculations and compatibility with cutting-edge servo technology.
Contouring controls for high-speed, high precision machining.
8.4 inch colour display screen.
Sensitive tolerance controls for smooth precision adjustments during machining.
Smart overlap tool for shorter cycle times.
Reasons For The Investment
We are driven by our customers and this new addition to our workshop increases our capacity, performance and customer service, cutting lead times and increasing the scope of the machining we can offer. The new investment was made in response to a massive increase in demand and to deal with the upturn of orders from clients in the Oil & Gas sector, although the machine has wide applications for customers in every industry we serve. To find out more about our services and capabilities, please call us today on 0845 5555 111.