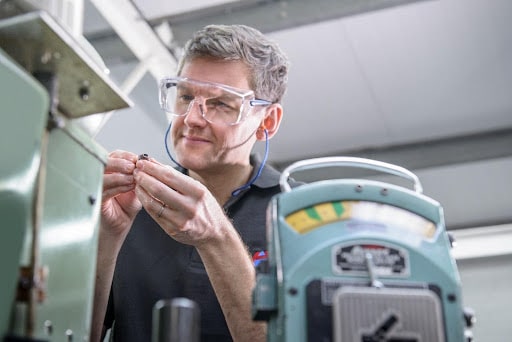 Performance in the automotive industry is more important than ever before with the advent of new technologies and a growing awareness of the need for more economical consumption of fuel amid a worsening climate crisis. Better performing engines depend on effective honing to create highly functional surfaces on components, making it one of the most important processes in engine manufacturing.
In this article, we'll explore the role that honing plays in the automotive industry and its importance.
The Benefits Of Honing In The Automotive Industry
Honing – sometimes confused with lapping or grinding – creates the optimum finish for numerous important automotive components, from brake drums and engine blocks to drive shafts and anti-roll bars. The process eliminates imperfections on metal surfaces, helping to achieve more precise geometric tolerances.
Honing can be completed by hand or machine.
The benefits of honing in automotive component manufacturing include:
Improved engine performance: correctly honed cylinders, for example, are less likely to cause a vehicle to fail its emissions test.

Enhanced engine properties, such as fuel and oil consumption.

Extended lifespan of key components: engine parts are often subjected to excessive pressure and stresses and, therefore, can wear more quickly. Honing protects parts against wear and improves durability and lifespan.

Better performance between mating parts, with lower friction that could cause damage.

More achievable minimum tolerances to achieve desirable results, such as oil retention.
Why Choose Hone-All For Automotive Honing?
At Hone-All, we have extensive experience of providing honing services for manufacturers of automotive components, which are completed to the globally recognised standards BS EN 9100 and AS 9100.
For optimum results, we use CNC honing technology which delivers exceptional efficiency, precision, and productivity, with benefits that include:
Exceptional tolerances and exacting dimensions.

Consistent accuracy and quality, with surface finishes of 0,05μ.

A high degree of repeatability for multiple copies of the same component.

In-built metrology to control stock removal.
Contact Us To Find Out More
At Hone-All, we provide high-quality CNC honing for automotive parts that ensures the surface finish is free from imperfections, eliminating the risk that substandard parts will cause the premature failure of crucial engine components.
To find out more about our honing services, or to request a free, no-obligation quotation, please call Hone-All on 01525 370666 or send us a message and we'll be delighted to assist.