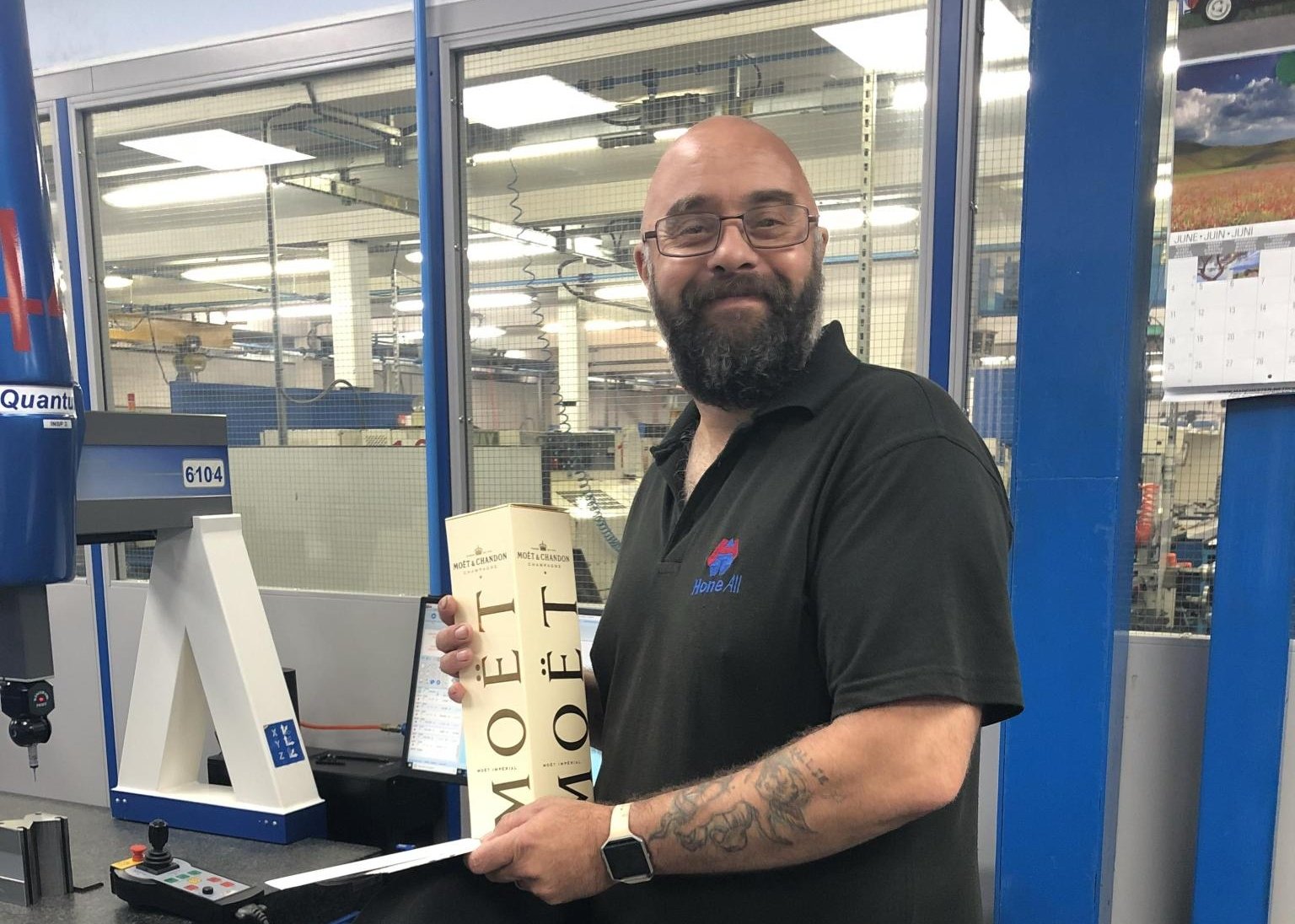 Hi, I'm Gary and I'm a highly skilled CNC Turner and the longest serving machinist here at Hone-All.

I started when I was 15 as an apprentice and Hone-All supported me through gaining my qualifications and over the last 32 years, I'm proud and thrilled to have played a key role in helping the business grow and develop from our tiny 800 sq. foot unit in Luton to our fabulous factory in Leighton Buzzard.

Times have certainly changed and so has the equipment!

When I started, we simply did honing and then we moved into gundrilling and then small turning. As each new process and machine was added, I was the first to jump in there and ask to be trained and as a result, I have an excellent understanding of all our processes – other than the Deep Hole Boring, I guess. By the time that arrived, I was heavily invested and needed on the CNC turning section and have focused my skills and specialism there.

I've loved watching the jobs become more complex and challenging as our expertise and confidence grew and thoroughly enjoyed seeing the larger and more heavy duty CNC lathes come in as a result of our success and growing reputation for quality – obviously, my excellent machining quality helps the most!

The tasks I handle are really varied but they all play a key part in making sure we can complete our customers projects to the highest possible quality and get them completed and delivered on time.

My first task of the day when I arrive at 6am: I always get myself a strong coffee to start my day on the right note. This helps with my initial responsibilities of the day – I check my machine, the coolant and oil levels, the guarding and ensure the area around my machine is clean and safe.

I then ensure I have all my tooling for the jobs ahead as one of the great things here at Hone-All is the variety of materials and difficulties. One minute, I'm machining Inconel and the next it's aluminium - one could be simply facing and parting off, the next a complex, multi-start thread over 2 metres long!

The day then consists of my vape breaks with the lads, listening and competing against my section on Pop master followed by a discussion of last night's football over my lunch of Bombay Bad Boy Pot Noodle!

Throughout the day my team and I are always keeping the area clean and tidy as we pride ourselves in being the most organised and cleanest section within the factory, and woe betide anyone who leaves something unnecessary in our section or on our machine. As for borrowing my gauges, they know better!!

At the end of the day, I clean down my machine, ensure all my tooling and gauging are put away and I then head off home to my beautiful wife and family, and relax and recharge ready for the next challenging day ahead.

The worst part of my job is when there are drawing queries as I like to be able to simply get on with the task at hand and anything which interrupts my flow frustrates me.

The best thing is that every day is different - probably why I've enjoyed my 32 years of service! No two materials machine the same and I never stop learning – every day is a school day!

The knowledge we've built over the years, particularly on machining thin wall or close tolerance tubular components is vast and as we note and learn from every new job, our quality is always excellent and repeatable – that's why our customers keep coming back week in, week out, year in, year out. I've been machining parts for some customers from the first day I started in 1988 so I think that shows why Hone-All is so great at what it does – we look after our customers and in return, they look after us by remaining loyal, coming back and keeping me busy! Hopefully, they will continue to do so until the day I retire.

I've thoroughly enjoyed my career so far with Hone-All and in engineering as a whole, and I'd recommend it to anyone who loves learning, loves variety and enjoys a job that includes daily banter and laughs with a great team. If you're thinking of options for leaving school, look into an engineering course – in my opinion, you'll never regret it and in the right company like Hone-All, you'll have a job you enjoy every day for the whole of your life!