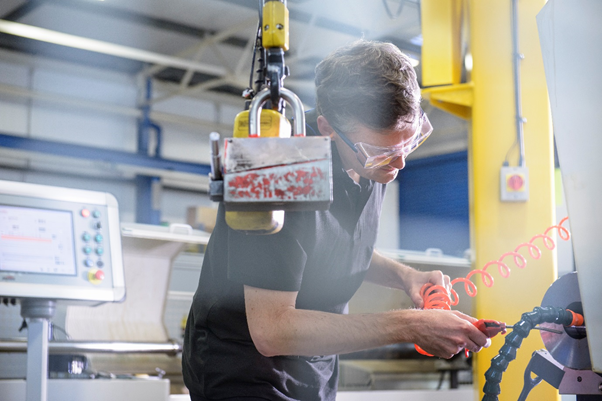 Drilling is, in simple terms, the process of creating a hole in materials using a variety of drilling tools to vary the size or depth of the hole. In precision engineering, however, drilling is more complex, yet it's a common and important process that uses advanced, specialist machinery to deliver outstanding accuracy and speed. The type of equipment best suited to drilling depends on several factors, so it's vital to select the right technology for the job. Here is an outline of the five main drilling technologies, the majority of which we can provide here at Hone-All.
1) Deep Hole Boring
At Hone All, we specialise in deep hole boring, in which long holes are drilled into solid bars. Specialist drill heads are fitted into a precise drill tube, which is used to produce bores which range from 20mm to 203mm in diameter. We use cutting edge machine tool technology to ensure exceptional accuracy and superb surface finishes over lengths of up to 3 metres.
2) CNC Gundrilling
CNC gundrilling, also known as deep hole drilling, is used to machine holes from 3mm to 28mm in diameter, to depths of up to 2500mm. Instead of used a conventional twist drill that rotates, gundrilling uses a single carbide tip cutting edge to remove chips from the material as it gradually advances through the component. Gundrilling is suitable for achieving precision bores that have high depth-to-diameter ratios in metals.
3) Trepanning
Typically, drilling destroys the material in a bored hole, reducing it to swarf chippings – think about how drilling a masonry wall results in a large accumulation of debris that is a nuisance to clean up. Trepanning is a specialist drilling method that removes only the perimeter of the hole, leaving the core material untouched. The cylindrical core can be removed for reuse or recycling, reducing costs and waste. Trepanning is quick, consuming less energy than traditional drilling, and can be used to drill diameters from 100mm upwards.
4) EDM Drilling
EDM drilling is used to make rapid and accurate deep holes in conductive metals. The method uses a rotating tube electrode combined with high pressure flushing to burn a hole through the conductive substrate, ensuring exceptional straightness accuracy. EDM drilling is particularly suitable for high volume applications in the aerospace industry.
5) Spark Erosion
Spark erosion is a valuable method for machining intricate or complex shapes that conventional drilling cannot produce. Using electrical discharges (or sparks) between two electrodes separated by a dielectric liquid which is subject to voltage, spark erosion carefully removes material from the substrate, achieving high levels of accuracy. With spark erosion, there is no mechanical abrasion.
Contact Hone-All for professional advice about drilling
Unsure which method of drilling is most suited to your manufacturing needs? Get in touch with our experts at Hone-All. We can provide specialist advice about which method will deliver outstanding results for your business, so give us call on 01525 370666 and even if we can't help with your requirement, we will put you in touch with someone who can.