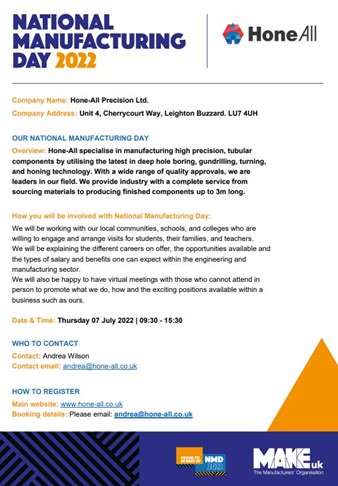 Launched by MAKE UK, 7th July 2022 is National Manufacturing Day, a chance for schools, colleges, and communities across the country to enjoy a 'keyhole look' into some of the nation's most well-known companies.
Why A National Day For Manufacturing?
Despite its reputation for excellence, the UK's manufacturing industry remains an unknown quantity at home. Negative perceptions, driven largely by lingering stereotypes and inaccurate reports in the media, are commonplace, with careers in engineering often portrayed as 'only for men', backbreakingly hard work, or poorly paid.
Of course, nothing could be further from the truth: the engineering and manufacturing industries are desperate for highly skilled and talented people, for whom lifelong, rewarding careers are on offer. Initiatives such as the National Manufacturing Day are crucial to give people from all walks of life an invaluable insight into what really goes on behind the closed doors of the nation's factories and workshops.
What Will Happen On National Manufacturing Day?
Manufacturing businesses, including Hone-All, will open their doors so that students, teachers, careers advisors, and members of the public can see for themselves the job prospects on offer in an exciting and fast-changing sector. In particular, National Manufacturing Day is geared to give visitors more information about engineering careers, whether they are school leavers unsure where their future lies, or experienced workers seeking to reskill and pursue new challenges in their work life.
National Manufacturing Day will also provide a unique insight into the role the sector plays in local communities across the country, so that visitors can understand the importance of manufacturing to the fabric of the UK and how it provides the highly skilled and well-paid jobs necessary for the nation to compete on the international stage.
National Manufacturing Day is a unique opportunity for people from across the UK to get behind the scenes of success at many of the country's most renowned and respected engineering companies.
On the day, visitors will be able to:
See manufacturing in action, including the use of the latest technology to creative complex products.

Find out more about how manufacturing companies operate and the roles and responsibilities of key staff.

Learn about career opportunities in manufacturing in a range of specialisms including design, IT, product development, research, and logistics.

Participate in fun and engaging hands-on activities.

Take part in an informative virtual tour of facilities if an in-person visit isn't possible.
Hone-All: Proud To Support National Manufacturing Day 2022
At Hone-All, we're proud to play our part in making National Manufacturing Day a success.
We believe that our people are what drives our success, so we invest heavily in our team's professional development and the latest technological innovations to deliver an unrivalled service for our customers. To find out more about our services, please get in touch today.