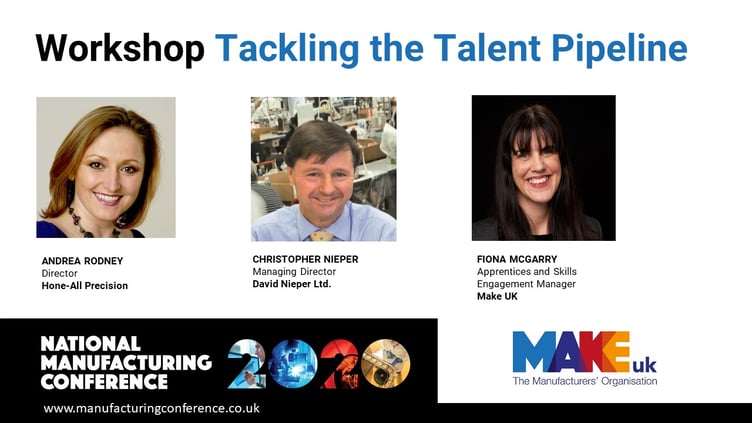 We are very much looking forward to our first major event of 2020 – the Make UK National Manufacturing Conference on 25th February.

Make UK: The Manufacturer's Organisation, is the country's leading professional group for manufacturers and their supply chain partners. The National Conference brings together thought leaders, policymakers and industry representatives for a day of seminars, networking opportunities, talks and training events.

What's Happening On The Day?
For active manufacturing businesses, the National Conference is a unique opportunity to engage in organised networking activities and connect with experts, new suppliers and potential new customers. Attendees will have the chance to increase their business profile within the industry, connect with prospects on a one-to-one basis, and increase their skills through a range of practical workshops. It is also an extremely enjoyable event!
We'll be joining representatives from over 800 UK manufacturing businesses for the full conference, which takes place at the QE2 Conference Centre in London. 2019 was an exciting year for UK manufacturing and, with Brexit just around the corner, 2020 has the potential to see the UK really push ahead in terms of expertise, product innovation and workplace diversity.
'Tackling The Talent Pipeline' Skills Workshop
Our Director Andrea Rodney will be hosting a skills workshop focused on manufacturing apprenticeships for young people under 24. Tackling the Talent Pipeline will present practical ways of increasing output from apprentices in your sector, and how modern apprenticeships can be used to upskill the next generation of engineering professionals AND provide a source of skills and innovations for your business.
Your conference ticket gives you access to this and many other workshops, as well as all the plenary sessions and special events organised to support the conference itself. Members of Make UK can secure admittance for just £299 + VAT, while non-members can attend for £399 +VAT.
See You In London?
If you're planning on attending the conference, please let us know. We enjoy the opportunity to link up with friends, colleagues, customers and suppliers at events like this, and also to discuss new projects and ways in which we can help. We hope to see some of you at what promises to be an interesting and enjoyable conference this month!