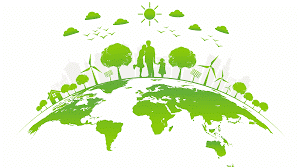 Public concerns about the state of the environment have soared in recent years and, at Hone-All, we recognise that we have a role to play in protecting the Earth in any way we can.
Nearly one-quarter of carbon emissions are produced by manufacturing businesses worldwide and, while the CO2 emissions in the UK have fallen by 10% in the past year, there's clearly a long way to go.
Why The Environment Matters To Us
At Hone-All, we take our responsibilities to the environment seriously for several reasons:
Firstly, like every business and member of the public, we have a responsibility to protect the environment from further harm. This means taking all necessary steps to mitigate pollution by adopting environmentally friendly techniques such as our solar panels which we had installed in 2014.
Secondly, our customers are increasingly seeking businesses who can demonstrate their green credentials. Passionate about delivering what our customers want, we're committed to adapting our practice to ensure that we achieve the same outstanding results without compromising on the environment.
Finally, as a community-focused business, we are dedicated to protecting our local environment, for the benefit of the residents and local organisations.
Education
Everyone has a role to play in protecting the environment from damage. At Hone-All, we ensure that all our employees understand their responsibilities which are embedded in our policies and procedures. By sharing our ambitions to be an even more effective environmentally friendly business, we create an ethos that prioritises the environment so that every action we take is thought-out and considerate.
Recycling
Manufacturing processes frequently produce waste materials such as metals, much of which is detrimental to the environment if disposed of in the wrong way.
At Hone-All, we recycle waste material in two ways. We re-use waste in new production processes where possible; alternatively, we dispose of it in a controlled way via a licensed waste carrier. We never dispose of waste in landfill, which can lead to considerable harm to ecosystems and waterways.
Minimising Energy Consumption
According to studies, energy consumption by the manufacturing sector accounts for a large amount of the total consumption of industry. Reducing consumption, therefore, is critical to lowering carbon emissions. At Hone-All, we take active steps to minimise our energy use, incorporating the latest energy-saving technology to reduce our carbon footprint.
However, as a business and as an industry, we also recognise that manufacturing is a part of the solution for achieving net zero and we are proud to work alongside our diverse range of customers, many of whom are involved in developing energy reducing technology and equipment.
For A Precision Machining Business That Cares, Get In Touch With Hone-All
At Hone-All, we recognise and accept our responsibility with regards to protecting the environment. If you're seeking a partner whose green responsibility accords with yours, get in touch with us on 01525 370666.