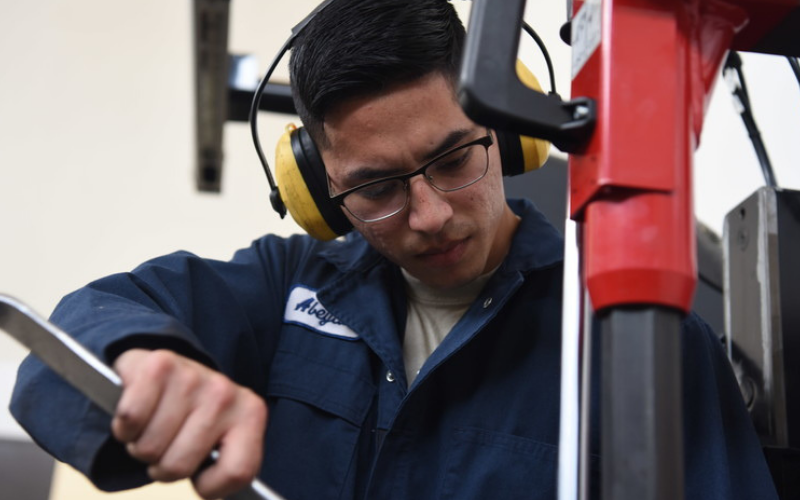 When directly translated, an apprentice means 'one who is learning'. It is a state of being that Einstein argues should be a perpetual condition of life. The moment we stop doing it, Einstein says - rather dramatically - we start dying. Well, our industry hasn't died but the lack of apprenticeships and quality training over the last few decades has certainly created the disease now commonly referred to as the "skills gap".
Individuals, companies and trade bodies have all been campaigning for years for Government support for training and apprenticeships as the skills gap was clearly identified as our biggest threat to success in UK manufacturing. The Government finally listened, apprenticeship targets were set, everyone was hopeful – then the Levy was brought in…
The Levy: What Is It?
The levy is explained in this short but complicated video and equally complicated accompanying government document.
However, to summarise as briefly as possible: companies with a paybill of over £3m have to pay the levy, which is returned as digital funds that can be used to pay for apprenticeship training and assessment. Smaller companies pay 10% of the cost of training an apprentice (soon to be 5% following the recent Budget 2018 announcement) and the rest is – in theory – subsidised.
Like any government scheme, all of this is tied to numerous conditions that are hidden in the small print. For instance, to gain a qualification as an apprentice, minimum off the job training requirements are now mandatory as are minimum lengths of training.
Why?
The aim is to provide bureaucratic safety nets that standardise the apprenticeship system. This protects new entrants from exploitation, whilst funding recognised qualifications. We all treasure apprentices. They represent the future of industry, which is especially crucial at a time when innovation and creativity is vital. This talent is shared across the industry, firing sparks of ingenuity that keep the entire agenda moving forwards.
What Are The Problems With The Levy?
Training apprentices can be expensive, so a system that shares the cost makes sense. However, it must be a system that encourages, rather than discourages, apprenticeships and unfortunately, until the promised Government review is made, that's exactly what it's doing!
The EEF published the following showing exactly how the Levy has negatively impacted the take up of apprenticeships.
The figures for Q1 of 2017/18 are as follows:-
114,400 apprenticeship starts, a decrease of 26.5 per cent from 155,600 reported at this time for 2016/17.
52,000 at intermediate level, a decrease of 38.1 per cent from 84,000 in Q1 2016/17
50,800 at advanced level, a decrease of 18.8 per cent from 62,500 in Q1 2016/17
11,600 at higher level, an increase of 26.8 per cent from 9,100 in Q1 2016/17
46,600 were aged under 19, a decrease of 20.0 per cent from 58,300 in Q1 2016/17
67,800 aged 19 and over, a decrease of 30.4 per cent from 97,400 in Q1 2016/17
Commenting on the Apprenticeship start figures, Verity Davidge, Head of Education and Skills Policy at EEF, the Manufacturers' Organisation said:
"This worrying trend is not just hampering employers' ability to get the skills their business needs, it is taking away invaluable opportunities for the next generation to undertake training and secure a future job. It is clear the Apprenticeship Levy and wider reforms aren't working and need a radical rethink. Government must listen to business concerns and ensure the Levy delivers the demand-led system that was promised to employers."
Luckily, the EEF have been working closely with Government to review the Levy and we all we can do is hope that a much improved and fairer scheme is the result of the consultation. Hopefully one which will be much more flexible and meet the needs of smaller businesses like ours and many others. Whilst Government has not made any radical changes it has started tinkering around the edges and listening to industry including letting Levy paying companies transfer more of their funds to other employers.
Some of Hone-All's best and brightest team members are those who have wandered in from the great outdoors, other companies possibly having declared them a poor fit for employment. You can read some of our Hollywood-ending stories here, but the overall message is that not everybody's full potential is demonstrated on a psychometric tick-sheet or a standard, one size meets all, college course or training provider.
For smaller companies, the relationship can be very different. Often looking for the crucial competitive edge, small companies have a real drive to reward enthusiasm with a chance. Training, development, guidance, trial, error, time, money… for a small company, this can be a large investment. Paying 10% plus extra costs per apprentice can take a significant bite out of the balance sheet.
Under the current levy system, small companies are required to shoulder a cost that can be prohibitive. In that scenario, everybody loses. The perfect funding solution currently remains elusive. A levy remains a logical solution, but the share needs to be spread more evenly.
Opportunities Can Be Missed
Perhaps the most disturbing figure to arise since the 2017 levy launch is that only 15% of apprentices are under 19.
At Hone-All, we have good reason to understand that age should never be a barrier to employability. Some of our brightest stars have walked through our doors when already grandparents, bringing their deep knowledge with them.
However, apprenticeships have always been about helping young people to find their feet. 15% is worrying. It raises the question of how the missing percentage will get their feet into the door of the industry, and why so many are not able to do so within larger companies currently.
Will Apprenticeships Suffer?
For as long as there have been precision manufacturers, there have always been apprentices. These have evolved from being a haphazard agreement between a parent and an employer to being a highly complex system of tickets, tokens, applications, qualifications, and requirements.
Time will tell whether the Levy revamp has positive or negative repercussions for the industry, but it is hard to imagine that talent will not slip through the cracks and smaller businesses will not suffer unless they are willing to take the steps we did and simply hire on attitude and aptitude and bear the brunt of the training cost alone – a strategy which has had seriously positive results so far.