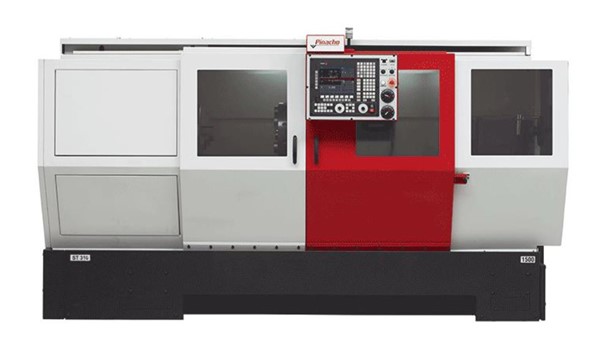 We are looking forward to welcoming a new Pinacho ST285 CNC lathe to our workshop here at Hone-All, after accepting a quote from C Dugard Ltd, of East Sussex.
This is an exciting investment for us because it is the first CNC lathe we've purchased with a C-axis. The additional axis gives us the capacity to drill and tap on PCDs and machine keyways/slots in-house, increasing the range of services we can offer. Previously we had to either subcontract this aspect of our work to a trusted supplier (with customer permission of course), or request the customer to arrange it themselves after machining – something we were always uncomfortable with because it meant we couldn't offer an end-to-end service.
A Quality Investment
We have invested in several Pinacho machines in the past and have been consistently impressed with their quality, reliability, and output. The lathes are manufactured and assembled in Spain at the Pinacho factory with a durable cast iron bed, and spindles, bearings and gears made from F155 steel. Along with the robust engineering quality comes the cutting-edge servo control systems and software that distinguish Pinacho from many of their competitors, with the capacity to upgrade these systems over time.
All components are CE/UKCA marked for quality compliance in both the UK and EU.
Technical Specifications – At A Glance
Swing over bed –570 mm
Swing over cross slide – 360 mm
Distance between centres – 2000 mm
Quick-change 12 station tool post
Feed rate:

X axis rapid traverse – 15 m/m
Z axis rapid traverse – 12.5 m/m
X axis cutting feed rate – 10 m/m
Z axis cutting feed rate – 10 m/m

Fanuc 0i-TF servo control package (we chose this operating system for its accuracy and contouring controls during high-speed precision machining)
On-board profile editor
Direct-drive headstock with servo motor
Tolerance controls for real time adjustments during machining cycles
'Covid Resilience' Funding
We can't mention this new addition to our asset base without citing the financial support we received from a Covid Resilience Bounce Back Grant towards the cost of the machine. This was thanks to Make UK making us aware of the funding opportunity by posting about it on their LinkedIn page – so thank you to them for sharing news that in reality, should have come from our local LEP or Chamber!
Our new Pinacho CNC lathe increases both the scope and volume of the projects we can undertake, so while these-bounce back grants are modest in value, it goes to show what a real difference they can make when used strategically to support investments in plant and machinery.
Find Out More
To find out more about the wide variety of machinery, technology and CNC equipment we use within our machining, or to discuss a project with one of our engineers, please give us a call today, or send us any questions through to our online contact form.