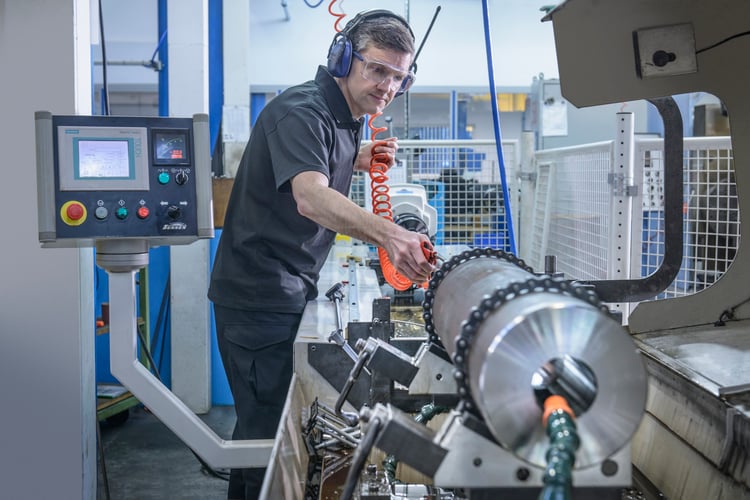 Honing and lapping are often mentioned in the same breath as if they were interchangeable terms, and the two processes do share some similarities.
However, honing and lapping are, in fact, two distinct processes with fundamental differences. In this article, we discuss what each process refers to in the world of precision machining, and the pros and cons of each:
Let's start with basic definitions and applications:
Lapping: Lapping is used to achieve very precise finishes and flatness tolerances on flat surfaces, profiles, or faces of metal components. It is usually completed using a lapping paste made up of a variety of different mediums such as aluminium or silicon oxides.
Honing: Honing, on the other hand, involves rotational abrasion / polishing to achieve an accurate size and surface finish on the

internal surface

diameter (ID) of a bore, tube, pipe, or hole.
Both honing and lapping are finishing techniques used at the end of the fabrication or machining process.
The differences come down to where the process is performed – with honing generally being used on internal round, bores and lapping on external surfaces – and the actual process itself.
Honing – Pros
Honing can achieve extremely tight tolerances in size, straightness, parallelism and cylindricity
The slow speed process is designed to minimise waste, heat generation and pressure, which otherwise could distort the ID and affect precision
Gives flexibility to change rotational or reciprocating speed to create a variety of finishes such as crosshatch or plateau
Honing – Cons
Requires specialist machinery and tooling and a large degree of skill
Honing can be very time consuming and laborious if too much material is left in the bore
Honing can only follow the existing bore; it cannot improve the straightness of a bore unless the part is honed on a mandrel which is at least two thirds the length of the bore
Lapping – Pros
Produces very good finishes and flatness limits
Suitable for any external surface, whether domed or flat, and for any diameter, size, and thickness of component
Components do not need to be clamped in place
Lapping – Cons
Not suitable for internal cylindrical surfaces
Lapping can sometimes require a degree of trial and error to obtain the desired finish
Requires close manual attention to pressure, temperature, plate rotation speed, abrasive type, and feed method
Find Out More
Hone All provide a range of precision engineering services to UK manufacturers in the Aerospace, Defence, Petrochemical, and other sectors.
Our wide variety of honing equipment, tooling and gauging attains the very highest of custom finishes for our customers.
To find out more about what we can achieve with our honing expertise, or additionally, our deep hole drilling, deep hole boring and turning processes, please get in touch today by phone or email.