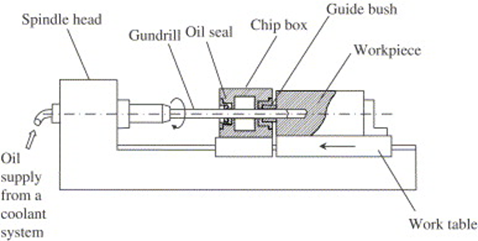 Deep hole drilling is a machining process in which holes are created up to ten times deeper than the hole diameter. Suitable for a range of metals, including the strongest of superalloys, deep hole drilling is used in many fields, including oil and gas generation, aerospace, mould-making, and heavy industry.
Deep hole drilling / Gun drilling is a common method for drilling deep holes, utilising a gundrill tool, made from carbide, with a kidney shaped shaft, to form holes with high depth-to-diameter ratios. For smaller, shorter bores, conventional drilling on a mill is most commonly used.
While the deep drilling of any material produces some challenges – the need to remove metal chips (swarf) and maintaining efficient temperature control, for example – gun drilling offers some important benefits above other techniques:
1) High Cutting Performance
Carbide cutting tools are among the most hardwearing and efficient in the machining industry, enabling tips to cut more quickly and precisely. Carbide drills offer exceptional performance, reliability, and longer tool life as torsional vibration is reduced.
2) Minimum Centre-Line Deviation
Precision is key when drilling deep holes, and gun drilling ensures minimum centre-line deviation. Bores are drilled with near perfect straightness, while deep holes are highly precise even when exacting tolerances are required. When integrated with Computer Numerical Control (CNC), gun drilling is even more precise.
3) Outstanding Drilling Quality
Whatever the depth of hole being drilled, gun drilling delivers outstanding results in a short duration with only a single pass required. Close tolerance bores can be created with superior surface finishes that are free from burrs or other inconsistencies, eliminating the need for additional machining, such as honing or reaming (unless specific finishes are required) – and therefore keeping costs down.
4) High Process Reliability
Swarf is an unavoidable by-product of any drilling process. However, in gun drilling the use of high-pressure coolant means the swarf can be continuously removed from the cutting area, reducing machining time and delivering higher quality and repeatability. Due to the effectiveness of swarf removal, deeper holes can be drilled with no impact on the accuracy of the drill.
5) Minimal Quantity Lubrication
Gun drilling oils are designed specifically for use in the deep hole drilling of metals that are more difficult to machine. Featuring light viscosity and excellent anti-weld additives, lubricants support tighter tolerances, increased tool life, low oil loss, and superior metal dropout rates when low turnaround filtering times are required.
At Hone-All, we use cutting-edge technology to achieve close tolerances and exceptional accuracy on all deep hole drilling and gundrilling products. With a wide range of deep hole drilling machines available, our services are cost-effective and responsive, providing you with the expert solution in the shortest possible time. Please get in touch today for more information.