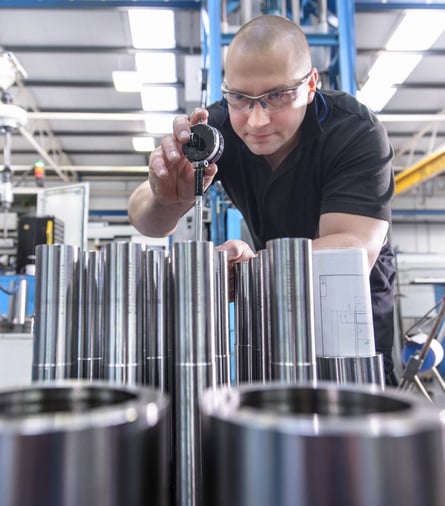 Tubular components are found in many sectors of manufacturing and industry, but their design and specification varies enormously according to their intended application. In some sectors, such as aerospace and medical instrumentation, for example, tubes must be machined to incredibly tight tolerances to achieve exceptional performance and lightness. Inaccurate machining can result in high reject rates, material losses and sometimes, components functioning poorly which, in some circumstances, could endanger end users.
At Hone-All, we have over two decades' experience machining high precision tubular components. By combining our expertise with the latest equipment and tools, we meet the most exacting of specifications to achieve exceptional surface finishes and tight tolerances for tubes up to three metres in length.
The Problem Of Concentricity – And How We Deal With It
In simple terms, concentricity is the measure of the consistency of the wall thickness along the length of a tubular component. It is calculated by measuring the difference between the inside and outside diameters of a tube at different points along its length relative to the central axis.
When carrying out deep hole boring to achieve a thin wall, it's important to start with a larger diameter material and to bore, and then turn, gradually in stages. This reduces movement in the material which can lead to inconsistent concentricity and compromised tolerances. While there's a minimum wall thickness that can be worked with during deep hole boring, our expertise enables us to achieve incredibly thin walls while maintaining concentricity.
Customers should note that it may well be necessary to invest a little more initially, but this will be well worth it in the long run, as you'll benefit from reduced wastage and more accurately machined components that will offer longer, more reliable performance – saving you more over time.
Why Choose Hone-All For Your Deep Hole Boring?
At Hone-All, we're the first choice for industrial companies across the UK who need precisely machined tubular components that achieve exceptional tolerance and concentricity.
Our experienced engineering team have completed many deep hole boring projects for a range of sectors of industry, so we can provide expert advice about all aspects of your project, including material options and process estimates to machine layout and programming. By choosing Hone-All for your outsourced deep hole boring, you can be confident that we'll produce outstanding results that are closely aligned to your needs and specifications, within budget and on time.
Contact Us To Find Out More
If you need to outsource your deep hole boring to a professional and reliable precision machining specialist who can deliver the outstanding results you require, please call Hone-All today on 01525 370666 or click here to submit a request for a free, no-obligation quotation.