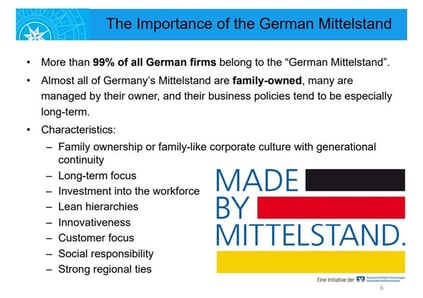 Earlier this year, Labour leader Keir Starmer promised that his party would transform British manufacturing if elected to govern the country, citing a reduction in funding and the loss of over 93,000 jobs since 2010. Needless to say, pledges of this nature are cheap and easy to make in politics.
However, and in contrast, Germany has recruited one million extra manufacturing workers in the same period and, free of the logistical and economic restraints posed by Brexit, the country's automotive sector has consistently outperformed that of the UK.

The current government has made much of its Levelling Up agenda, and we look forward to seeing how the Prime Minister's successor intends to pursue this agenda in the remaining years leading up to the 2024 election. With this in mind, what lessons can be learned from the way that Germany has managed its manufacturing sector under various centre left and centre right governments over the past 10 years?

Mittelstand: The Heart Of Germany's Economy

Germany has enjoyed a reputation for engineering excellence for many years, but its success is not simply a result of good fortune. Over 99 per cent of the country's small and middle-sized
enterprises (SMEs) belong to the Mittelstand, an association of over one million companies that is a powerful engine for the German economy:
Employs over 20 million people.
Accounts for more than 30 per cent of exports.
Responsible for over half of Gross Domestic Product (GDP).
Provides vocational training to approximately 82 per cent of apprentices.
Germany's success as a manufacturing powerhouse is largely driven by the Mittelstand, yet many of its SMEs occupy a low profile.
What makes the Mittelstand effective and could the UK benefit from adopting a similar strategy?
A Razor-Sharp Focus
Most well-known manufacturing companies have diversified from their core business, yet the Mittelstand comprises a vast number of SMEs who, collectively, account for the majority of Germany's trade surplus. Mittelstand manufacturers tend to have a concentrated focus on their core services, offering highly specialised and customised products that meet their customers'
exacting specifications.

A Commitment To Entrepreneurship
Mittelstand companies are highly innovative, sometimes with strict policies not to discuss the ingredients of their success with the media. They are also backed by the Federal Ministry for
Economic Affairs and Climate Action, who support challenging SMEs to stay innovative, vibrant, and strong. The German government is working on many fronts to strengthen the Mittelstand and increase its competitiveness, with job creation central to its success.

A National System Of Vocational Training

The success of Mittelstand depends heavily on investment in vocational training, which is globally renowned for its quality. By combining workplace training with classroom theory, SMEs can recruit highly skilled and committed staff. The Mittelstand workforce is extremely stable and loyal, with a turnover rate of only 3 per cent.

Could The UK Foster The Spirit Of Mittelstand?
With a proud history of manufacturing success and an increasing thirst for reshoring to resolve problems in global supply chains, the UK is perfectly positioned to seize upon the Mittelstand's
success to transform the industry at home.

At Hone-All, we have long argued for direct action to reverse the fortunes of UK manufacturing. A change in leadership in Downing Street is an ideal opportunity to create a new position for a
Minister for Manufacturing, so that the interests of SMEs can be given proper representation. By promoting the manufacturing industry at home and abroad, a prominent ministerial role would
help to erase the negative connotations associated with the sector and implement strategies to make manufacturing more resilient, productive, and attractive.


Contact Hone-All Today

To find out more about our specialist services, and our campaign for Government representation for SMEs, please get in touch today on 01525 370666 or visit www.hone-all.co.uk