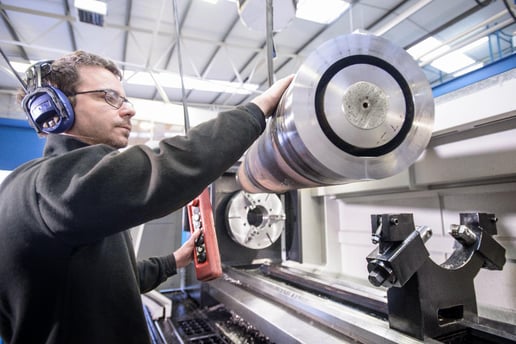 This is a part that has been trepanned.
"I thought a trepanning tool was an unpleasant medical device from the 19th century! I didn't know it was also a manufacturing process!"
When Jo asked if she could feature Hone-All Precision, our director, Andrea Rodney, suggested that the focus of the feature should be Trepanning.
Jo only knew this word as a form of surgery in which a hole is bored into the skull. However, there is another, less well-known, industrial application for drilling large deep holes in metal parts whilst still retrieving a valuable core.
It can be used in many industries, including Oil & Gas and Aerospace, where bores may be required in components or if there is insufficient horsepower to drive solid drilling tools.
This application is also recommended if there is a through bore or long design, which makes it ideal for specialists in deep hole drilling, honing and turning up to 3 metres long - like Hone-All.
Sometimes the trepanned hole is fit for use as bored but often it is meant to be a roughing operation to be machined to a closer tolerance or honed through for a good surface finish and improved geometry.
So, What Does A Trepanning Tool Do?
Andrea explained that this form of cutting machine has two uses:
1. It can remove a solid core from a piece of round bar or material. For example, a customer has a 300mm diameter bar but the design requires a 200mm hole up the middle of it. The tool can trepan that material out and give them back the solid core, rather than chippings or swarf. This means that the slug can be used to make another component instead of becoming waste.
Say you had a pre-op 200mm bore out but tight tolerance means that the company cannot get up to that size, a trepanning device would be used to do a rough cut to remove the majority of the material in the most effective manner.
2. Alternatively, imagine a bar with a big flange on the end. So, you have a 400mm diameter bar but most of it needs to be turned down to 200mm. You could use the trepanning tool to part off the outer sleeve.
It would take numerous passes to remove 200mm from the outside diameter of a bar. So, rather than turning for hours and removing a huge amount of material as swarf, it is possible to use one machine process to produce a solid sleeve that can be used again.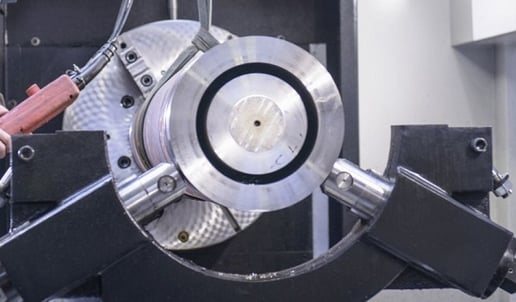 How Does The Process Work?
A part is loaded into the machine where a pressure head seals to the end face. The pressure head at the face is to support and create a seal.

Oil then begins to flow, building pressure at the tip of the tool and rotation begins. The tool is fed at the required rate and begins to cut. Any chips are directed to the inside of the boring tube and are evacuated back down the tube and into a swarf conveyor. The core remains uncut and, when the cutter breaks through, it eventually drops leaving the part to be removed once the machine has stopped and the cutter has been withdrawn.
What Are The Advantages Of Trepanning Drilling?
This manufacturing moneysaver reduces:
material waste which would otherwise be in the form of chippings;
the usage of boring tips and tooling;
energy
machine & operator time.
Thus, trepanning machining reduces your energy resources and tool costs but also allows you to make the best and most efficient use of materials by recycling the trepanned slugs for alternative jobs.
Because we specialise in tubular components of all specifications and tolerances, Hone-All Precision have the experience and expertise to offer you the best, most cost-effective option for the specific needs of your job.
Factory Friday is a regular LinkedIn article to promote the more unusual elements of UK engineering and manufacturing by Jo Shaer of Lollipop Local.