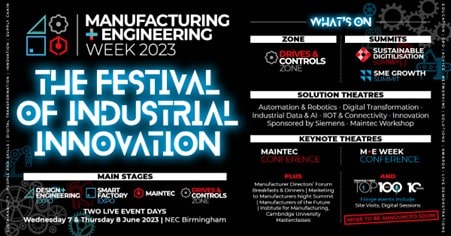 The week is Manufacturing & Engineering Week, and is set to be a special time in the UK manufacturing sector's annual events calendar. This year, the event culminates in a series of concurrent free two-day events on 7th and 8th June to be held at the NEC Exhibition Centre in Birmingham, in which industry thought leaders, innovators and entrepreneurs will meet to map out the future of the manufacturing and engineering sector.
The event will showcase the latest technologies and innovations shaping the sector at all levels, from supply chain optimisation, automation, AI, process streamlining, and future growth strategies.
Summits and conferences to be held as part of Manufacturing & Engineering Week include:
Design & Engineering Expo

Drives & Controls Zone

Maintec

Manufacturing Digitalisation Summit

Smart Factory Expo

SME Growth Summit
Manufacturing & Engineering Week is one of the best opportunities to learn from engineering leaders and connect with new and prospective suppliers and is almost unique in the way that the event incorporates specialist exhibitors, workshops, and conference speakers from such a wide range of specialist areas under one roof.
The event is expected to attract over 7,500 delegates, speakers, and exhibitors from across Europe and the UK.
One of the highlights of the event is going to be an expert-led, case study-driven conference programme, featuring a variety of inspiring keynote speakers from the highest levels of industry and government policy-making bodies. The focus of many of the keynote addresses is set to revolve around how innovative advancements are addressing the various supply chain challenges, sustainability issues, workforce gaps, and energy challenges currently facing the industry.
Our Director Andrea Wilson was delighted to be on the advisory board for this year's event and will be at the NEC over both days representing Hone-All as well as speaking at the SME Growth Summit about SME's, The Unsung Heroes on the Wednesday morning.
If you're planning to attend and would like to link up for a coffee and an informal chat, please let us know. Manufacturing and Engineering Week is a fantastic opportunity to put faces to names and we are looking forward to an inspiring and memorable event.
Hopefully see you there!
Image Source: Mandeweek