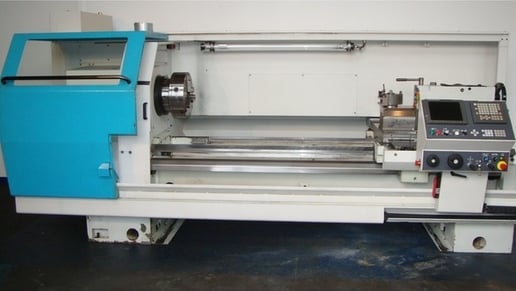 We have recently been enjoying utilising our latest Colchester CNC lathe – the newest addition to our CNC large turning section here at Hone All Precision. The Colchester Lathe Company, based in Heckmondwike in West Yorkshire, is one of the world's leading producers of CNC lathes and supporting equipment.
Supplied by R K International, whose exceptional support and service is invaluable to us here, the additional machine has increased our capacity to help deal with the increase in orders due to the upturn in the Oil & Gas sector.
Our new acquisition is a 2m flatbed lathe from the Colchester Centre Lathe series. We selected it for its ease-of-use, simplistic programming and efficiency, and the opportunities it offers for a range of specialist modular upgrades. For performance and accuracy, Colchester lathes are hard to match. Our new lathe is also one of the fastest machines we have had the pleasure to work with, increasing our work capacity and allowing us to reduce lead times on many client projects.
Key Features Of The 6000/120 Centre Lathe Include:
Swing over bed - 800mm
Swing in gap - 870mm
Swing over cross slide - 520mm
Distance between centres - 2000mm
X axis cross slide travel - 400mm
Spindle centre height from bed - 395mm
Spindle centre height from floor - 1200mm
Spindle nose (Camlock) - D1-11
Spindle bore - 120mm
Spindle front bearing inner diameter - 156mm
Spindle motor - 22/26kW
Spindle speeds (programmable) - 15-1500rpm
X /Z axis rapid traverse rate guards open - 3000/4000mm/min
X/ Z axis rapid traverse rate guards closed - 3000/10000mm/min
X axis ballscrew, diameter x pitch - 25 x 5mm
Z axis ballscrew, diameter x pitch - 50 x 10mm
Tailstock quill taper - No. 6 MT
Tailstock quill diameter and travel - 120/210mm
Cross slide width - 280mm
Bedway width - 550mm
Turning tool section - 32 x 32mm
Approximate nett weight - 6000kg
CNC Honing, Deep Hole Boring & Drilling Services From Hone All
At Hone All Precision we offer a wide range of CNC machining services to clients across the UK. We use the latest inspection and turning technology to achieve long lasting and repeatable results with every project. Our latest investment is part of our ongoing commitment to provide the highest standards of customer service and product delivery in the wide variety of sectors we currently serve. To find out more, please get in touch by phone on 0845 5555 111.
Our free e-book: The Guide To Deep Hole Drilling, Boring & Honing Costs also contains useful information about our capabilities and services. Download a copy today by clicking here.