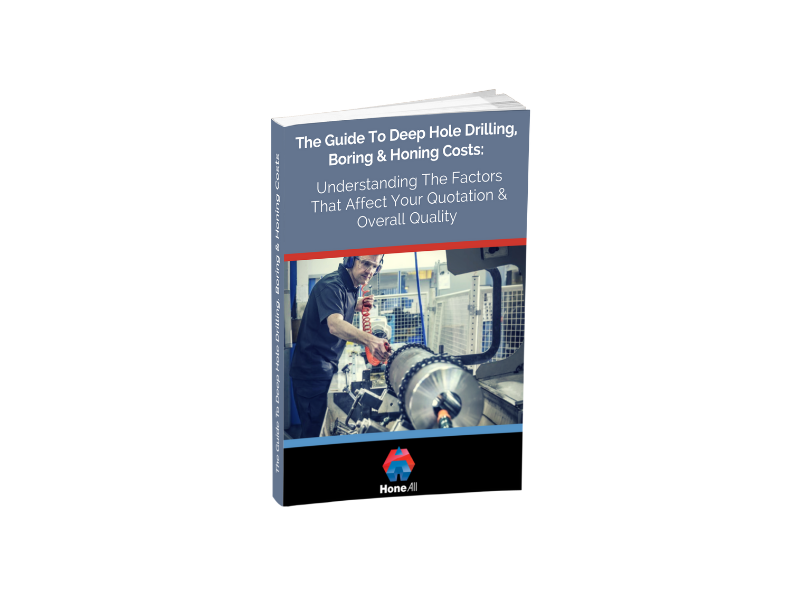 Both deep hole boring and deep hole drilling are specialised areas of precision engineering. Consequently, for buyers considering outsourcing these skills, achieving a realistic price that balances cost and quality is often challenging.
When calculating the cost of a deep hole boring or drilling job, providers need to consider a range of factors, including:
The level and complexity of machining required.
The technical specification of the job/project.
The impact on the completed component.
At Hone-All, our pricing strategy for deep hole drilling and boring is underpinned by our unwavering commitment to quality. If we engaged in a race to the bottom for the lowest prices, the standard of the job would almost certainly face a shortfall and potentially cause our customers problems further down the production line.
Every task we undertake is completed with the utmost care and precision, and we will always clearly outline the scope, process layout and costs of each job before work commences.
So, what factors can affect the scope of work we recommend and the subsequent price of our drilling and boring services?
The Problem Of Drill Wander
In deep hole drilling and boring, drill wander – where the start of the drilled hole is exactly on-centre, but the exit is marginally off-centre – is a persistent problem that we work hard to eradicate in order to deliver the highest quality results for our customers. Industry standard usually offered is a maximum deviation on exit of 1mm per 1 metre drilled.
When preparing quotations for our deep hole boring and drilling services, we consider additional measures to help to overcome drill wander, such as ensuring that the lengths are consistent, and faces of components are clean, even, and chamfered. Customers who are keen to achieve the lowest prices may only see the price we quote, rather than our methodology and reasoning. For this reason, we will always take the time to explain clearly what a customer will be paying for, rather than offering the lowest price simply to gain their approval – followed by a higher machining cost later to turn off more material in order to true up the billet.
The Tolerance Challenge
When machining precision bores, industry standards are often extremely demanding and, if honing is required to achieve a specific tolerance of surface finish, meeting exacting specifications is non-negotiable and can increase the projected cost.
For example, deep hole boring, which is commonly used to drill bores between 20mm and 200mm in diameter, offers as standard, an industry tolerance of ±0,25mm. Tolerances below these parameters usually make honing a necessity, which may result in a higher quotation.
Consequently, the decision we face, and the question we ask, is whether to quote for standard tolerances to suppress costs, or to price our boring and deep hole drilling services with the highest quality in mind, thereby avoiding delays and unforeseen additional costs later in the order processing sequence.
Meeting Our Customers' Needs
In all our work, we take time to identify what our customers need, not simply what they want. This helps us to plan our work meticulously to ensure that a finished component meets their requirements and is best suited to the intended application. We understand that a product that is substandard or poorly machined will not perform adequately, leading to expensive disruption and further costs in future.
When considering our quotations, you can be confident that our prices are designed to deliver high-quality components that are fit for purpose and reliable.
Contact Hone-All For More Information
If you require expert deep hole drilling or boring for your project, please get in touch with Hone-All to arrange a bespoke quotation or see The Guide to Deep Hole Drilling, Boring, and Honing Costs for more information.