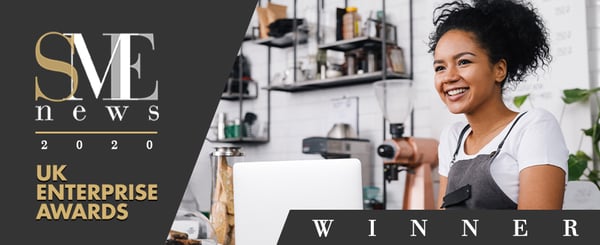 We are delighted to announce that we've won the 2020 UK Enterprise Award for excellence in Sub-Contracted Machining for Oil and Gas! We were extremely proud to be nominated by our customers for the Best Subcontractor Oil & Gas in the SME Energy & Power Awards at the end of last year and now we have been selected as the overall winner for Best Oil & Gas Subcontractor in the SME News Enterprise Awards 2020.
Although this is not to be formally announced until the end of August, we wanted to announce it as soon as possible to keep the positivity and good news flowing throughout our fabulous industry!
Knowing that customers have recommended us and receiving the honour of this award for our services in deep hole drilling, deep hole boring, CNC turning and honing for the Oil & Gas industry is truly humbling but a great reflection of the efforts of our fabulous team here at Hone-All. It is this award-winning quality that keeps our customers - including Rolls Royce, BAE Systems, and Collins Aerospace - coming back for more, and we are extremely grateful for the opportunities and this wonderful recognition.
Thank You!
To all of our clients, suppliers, stakeholders and well-wishers, we hope that in the midst of everything this news brings a smile to your face and we thank you for your continued nominations, testimonials, recommendations and constant support.
We would particularly like to thank our dedicated, hard-working team, who have been amazing in continuing to work with us throughout the crisis, supplying critical components in the fight against Covid-19. Without their constant loyalty, commitment and support, we wouldn't be able to complete our time-critical, essential work to the excellent standards we do.
As we, and the UK as a whole, gradually get back to normal over the coming months, we'll be delivering the same excellent service and quality machining we always have to help our clients, the UK Manufacturing industry and the economy, rebuild quickly from the COVID-19 crisis.
Machining And Much More From Hone-All
Hone-All is a UK-based, family-run company focused on precision engineering, world-leading expertise, and innovation in supplying precision machined components for a vast array of industries.
Our manufacturing facility in Leighton Buzzard allows us to offer clients an 'all-in-one', single source solution to manufacturing tubular type components, enabling us to meet and exceed your schedule and requirements on time, every time.
Our highly skilled engineers can assist you in your planning to achieve the highest quality at the most competitive rates whilst considering the overall job, not just our own part of it. This ensures that there are no nasty surprises further down your production route guaranteeing that not only we, but you, can also meet your exacting quality and delivery targets.
Call, email, or visit our website www.hone-all.co.uk today to find out more and see for yourself how working with a company which takes a "holisitic" approach to your project can help!