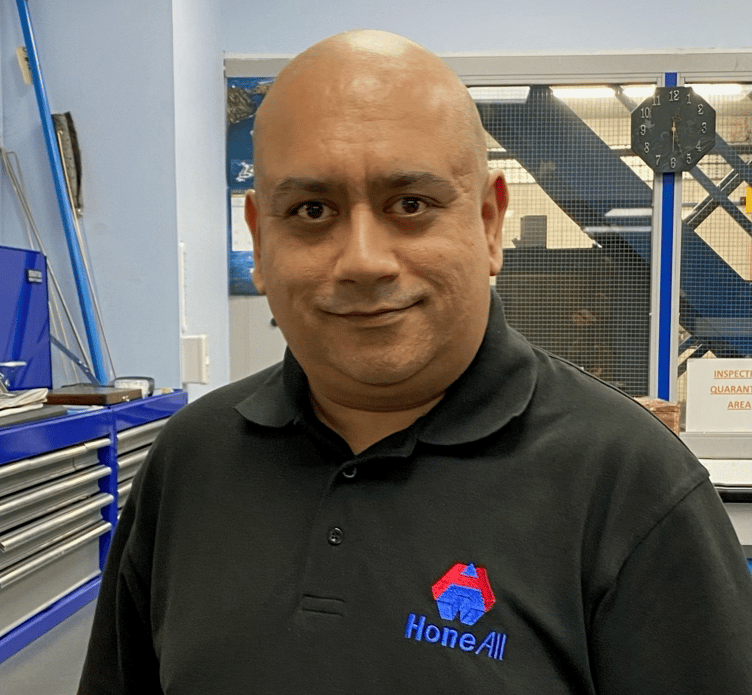 I was so thrilled when Andrea contacted me and offered me the opportunity to join Hone-All.
Due to Hone-All being one of our valued suppliers as well as a competitor, I had visited previously and had been impressed with the processes and procedures on show. So much so, I did try and emulate and implement some in my previous company but didn't really have the time to complete them before the decision was made to close us.
However, what you don't see when you visit, and what I hadn't appreciated until my training started, was the depth and complexity of what sits behind the processes I'd seen as a visitor.
The book "cover" was great but what was within the pages was so much more!
My training has shown me the huge level of detail involved, the methodology which backs up every stage of the process plan, and the justifications for implementing those decisions, has been the biggest challenge to understand and learn during my first three months.
The simplest of things such as giving the customer a full operation listing as a part of their quote was not something I ever did before – we simply sent an e-mail with a unit cost. Supplying process layouts is sometimes seen as giving away trade secrets but during my sales process training, it was made clear that as a business, Hone-All want our customers to have clarity and consistency in their estimates, so the customer can be confident in the service and quality they are being offered.
I do think the "why" sometimes gets missed by the customer though. For example, how we add a prepping operation to the gundrilling or deep hole boring process to ensure that drill wander is minimised and therefore improves the overall quality of the job for the customer, as well as potentially saving them costs on material start sizes too! The Guide To Deep Hole Boring Costs does explain this further and was one of the first documents I familiarised myself with when I joined.
I was also amazed to see that we also send a copy of the RFQ and the drawing we are quoting against back when we reply to the quote. Initially, I couldn't quite see the reason for the extra work this created but then I saw how this not only helps customers who send multiple, similar enquiries but also enables the customer to check that what we are quoting is correct to their requirements and query if necessary. Also, all the documents being sent back on one e-mail ensures the traceability is second to none and allows quick and easy access when orders are placed, both for Hone-All and the customer!
I've really enjoyed learning about the internal plans which Hone-All use to control quality and process improvements too. It's sometimes difficult as a sub-contractor when you are asked to quote the same job for numerous different customers who all want a slight change or level of work on the job. Hone-All's controls are outstanding, utilising internal plans to identify different requirements and then using the internal plan revisions to add feedback from the engineers throughout and upon the completion of jobs to ensure expertise and knowledge is retained, as well as improvements implemented on next orders, often saving costs and time for the customer in the long run!
This last week I've been learning more about the overall process and even the goods in, goods out processes have more layers of process requirements than I've ever seen, but you can see that each one protects Hone-All, protects the customer and ensures that the highest levels of service and quality are always maintained – even down to photographing goods before they are packed, once they are packed, and before they leave!
There have been so many other aspects of the business which have impressed me (and at times, overwhelmed me with wondering when I will learn them all!) but I am looking forward to developing my skills, continuing my training, and helping Hone-All achieve their ambition of not necessarily being the biggest but always being the best!
Contact us today and see for yourself the levels of professionalism, quality, and outstanding customer service Hone-All can offer! I hope to receive your quote soon so I can add it my training!