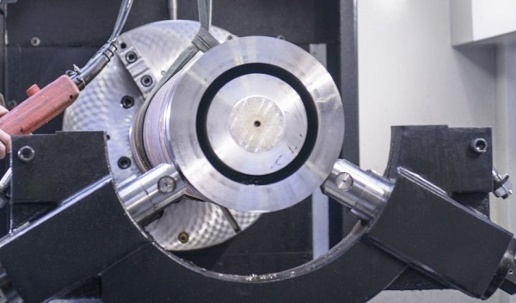 Trepanning is basically deep hole boring with a difference in that it leaves a core. It is an efficient method for drilling deep large deep holes that is more cost-effective than deep hole boring.
The most common use for trepanning is cutting a core out of a larger solid leaving two pieces. The removed material is not reduced to swarf as with drilling but remains a solid billet. The most common example is a solid billet that is left with a hole bored through from end to end and a second smaller round bar that is excised by cutting around it. It can be intended as a roughing operation, destined to be machined further or honed to a finer finish. Alternatively, trepanning alone is sometimes adequate for the job in hand. In fact, people often ask for trepanning when all they want is a deep hole or process bore.
Trepanning can also be used on surfaces such as on solid rods or cylinders, or sheet metal. Instead of drilling all the way through, it can be used to create grooves for O rings or recessed mounting slots.
Advantages Of Trepanning Over Drilling
Trepanning tools can either remove a solid core or the outer sleeve of a billet in less time than conventional machining methods.


Trepanning tools require less energy than boring tools because cutting out a cylinder takes less time than drilling as the bulk of the stock is not converted into swarf but left intact.


Trepanning tools use indexable tooling, which makes them very efficient and productive when processing different jobs in quick succession.
Trepanning is often used for creating large diameter holes, usually deeper than one hundred times the diameter. The rational for choosing trepanning is often one of these:
A standard boring head is either not economical or available


The customer specifies the return of a solid core either for maximising scrap values or for re-use. (However, this billet would require recertifying and treating if full traceability is required as the certificate would no longer reflect the description of the material.)


Bore diameter is greater than 100mm typically


Expensive metals, such as titanium or super alloys are required
The Cutting Process
The cutting system is like the BTA drilling single tube system, but it requires less energy to power the spindle because trepanning cuts less material as it rotates. The feed is typically ballscrew or rack and pinion. Trepanning tools use carbide indexable tooling heads, which are hollow in the centre with peripheral tips and high-pressure coolant and lubricant. The cutting head is sealed against the end of the workpiece by a pressure head at one end and the chuck at the other.
As cutting progresses, the coolant flow pressure removes the swarf by forcing it into the conveyor and the coolant is recycled through the retaining tank. The head and shaft gradually become supported by the bore until it reaches the end of the billet at which point the core can be removed. Load monitoring is commonly used to alert the operator to potential issues during the operation as the cutting edge is invisible for the duration.
Standards
Trepanning is often the first step in producing a part to customer specification. It may be followed by additional machining such as counter-boring or honing. Our engineers here at Hone-All pride themselves in delivering all orders to aerospace standards irrelevant of use or quality requirement. That means you are guaranteed the finest engineered parts. We invite requests to discuss subcontracting requirements, especially for businesses that prize extreme precision and supreme quality.
Request A Quote
Use this easy form to get a quote from Hone-All for any specific job that you have in mind. Quotes are free and quite often initiate a discussion about approach and technique that may lead you to rethink some aspects of your specification. That's some added value straight away so call us or e-mail us and see just how much we can help.