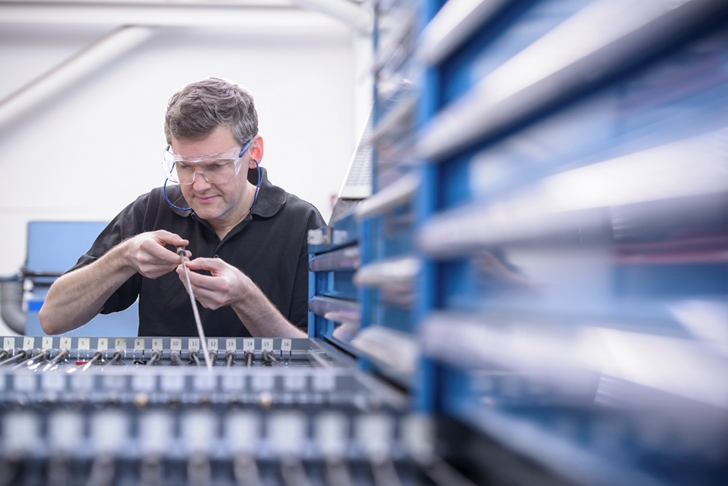 At Hone All, we combine the latest cutting-edge deep hole drilling technology with superior technical knowledge to provide precise machining solutions. Our gundrilling services offer an accurate, cost-effective solution for businesses, matched by rapid response times.
So, what is gundrilling and what advantages does it offer?
What Is Gundrilling Used For?
Gundrilling is a form of deep hole drilling that utilises a long, thin cutting tool, to create holes in metal with high depth-to-diameter ratios (up to 400:1). Effective in producing holes with diameters between 2mm and 25mm, gundrilling is unlike conventional rotational drilling, as the tool uses a single cutting edge to remove chips in the material as it advances. During the operation, high-pressure coolant is flushed through the central hole to support the movement of the drill tip and to remove the swarf safely.

Originally developed for the manufacture of gun barrels, gundrilling harnesses the latest technology, including CNC deep hole drilling, to deliver highly precise machining for a wide range of industries. Gundrilling offers important benefits over other types of metal drilling:

1) Cost Efficiency: Gundrills can be reground and re-tipped numerous times by specially trained machinists, offering a long service life that makes the method more cost-effective than conventional twist drilling. The feed rate is also extremely quick and efficient in comparison with traditional drilling.

2) Superb Drilling Quality: Whether you need shallow or deep holes, gundrilling can produce outstanding results quickly. Close tolerance holes can be made with excellent surface finishes, free from burrs, consistently over long lengths. Additional machining, such as reaming and honing, is not usually required.

3) Precise Cutting Performance: Compared to conventional drilling methods, gundrilling is consistently more accurate, delivering superior accuracy with minimum centreline deviation. Consequently, gundrilling makes it more possible to deliver to exact specifications for a range of projects and industries.

4) High Reliability: Because of the way in which they are formed and the use of a high-pressure coolant, swarf can be continuously removed from the cutting area, improving quality and repeatability, and reducing machining time (with the process up to six times faster than conventional twist drilling).
Contact Hone All
By working closely with you and discussing your needs fully, we aim to meet your exacting requirements and to deliver cost-effective services that make accuracy and quality a priority. To find out more, download our free Guide to Deep Hole Drilling, Boring, and Honing Costs or get in touch to discuss your next project.